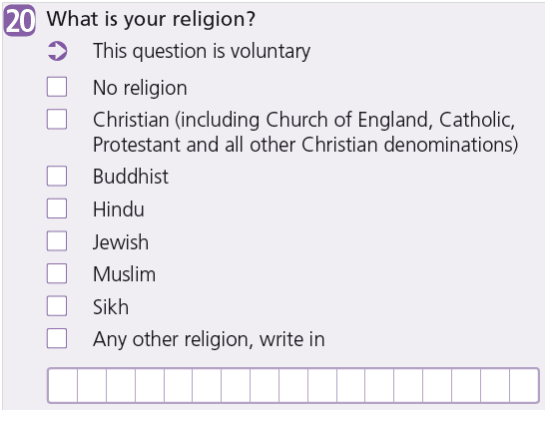 I am certain this has happened to many of our readers too, and often I'm at a loss how to respond to it. It's that little rectangular box marked "Religion" that requests you to fill in your reply. In some cases, the form that contains this question already contains a list of the major (or let's call them "established") religions plus perhaps the option "none" or "other". The respondent then simply needs to tick only the one most suitable term on the list. Perhaps this is not so much of a problem for those who consider themselves adherents, members, or followers of some of the "established" religions that are on the list. However, even they may struggle when they wish to specify which 'branch' or 'stream' of their religion they belong to, but have no way to do so – at least not when these forms are on the web and only allow one to choose just one of the options given in the dropdown. And what about the options of "none" or "other"? The term "none" is ambiguous as I will explain below and "other" can be unsatisfactory if not outright upsetting to someone, who regards his or her unlisted religion as important and on a par with the established religions.
Even though it may seem easier to handle question boxes on forms that you fill in by hand, the one asking about your religion can still pose problems. Usually the box is quite small (which could be one difficulty), but the far more serious problem concerns what is actually acceptable as a "religion" (cf., Smith 1963; Martin 2002) There are hundreds of religions in the world; would it be acceptable to enter the name (if there is actually one) for a tribal religion followed by a small number of people? I have worked a lot in Arunachal Pradesh (Meyer-Rochow et al. 2015) and there are many people who would want to enter their religion as Donyi-Polo (Chaudhuri 2013). But would that be acceptable? Or more problematic still: what if someone has a religion of her/his own? I know someone, call him a Nature-Believer or "modern-day-animist", who says he has his own personal religion which, for instance, allows him to eat only organisms that he has killed with his own hands. Since as a young man he did on a few occasions kill chickens, and since he loves going fishing, he allows himself to consume poultry and fish, but never any mammals, because he never killed any. Would it be acceptable to write into the religion box "own" or "personal religion"?
And how about those that claim they are atheists or agnostics? Explicit atheists, sometimes also termed positive or hard atheists, reject all suggestions of the existence of deities; for them gods simply do not exist and never have existed (Smith 1974; Martin 2002). Disputed by many that this form of atheism could qualify as a kind of religion (e.g., Flew 1997), because it does not possess the characteristics of a religion, namely the belief in some deity or deities, the question arises whether it would then be proper at all to answer the question about the "religion" with the word "atheist". If atheism is not a religion, would it be more appropriate to enter into the box "none"? With agnosticism it becomes even more complicated as agnostics, depending to whom you speak, claim that we can never know whether there are or aren't deities and that therefore they do not believe in any of the established religions (Rowe 1998).
Leaving the box blank or entering the word "none" seem like attractive alternative possibilities and a way out of the dilemma, although leaving it blank will usually not allow you to move on to the next page, at least not if you deal with Internet forms. Moreover, leaving the field blank could mean that just like a newborn or young child that has never been confronted with the question of deities, the supernatural, or religions, you are an ignoramus. It would seem that you have either never had a chance to think about religions and arrive at a conscious conclusion for yourself or that you are too stupid to understand the question or contemplate the differences between religions. In fact, one could debate whether in this time and age a question as personal as that about one's religion is actually still acceptable in questionnaires at all – other than for statistical analyses. Is it not similar to people being asked about their sexual orientation, their food preferences or whether they like beaches more than mountains or vice versa?
Cited Literature
Flew, A. (1997). The presumption of atheism. In P. L. Quinn & C. Talliaferro (Eds.), A companion to philosophy of religion (pp. 410-416). Oxford: Blackwell.
Rowe, W. L. (1998). "Agnosticism". In: E. Craig, Routledge Encyclopedia of Philosophy. Taylor & Francis. Abingdon, UK ISBN 978-0-415-07310-3.
Chaudhuri, S.K. (2013) The institutionalization of tribal religion, recasting the donyi-polo movement in Arunachal Pradesh. Asian Ethnology 72: 259-277
Meyer-Rochow, V.B., Megu, K. and Chakravorty, J. ( 2015) Rats: if you can't beat them eat them ! (Tricks of the trade observed among the Adi and other North-East Indian tribals). Journal of Ethnobiology and Ethnomedicine 11:45, DOI 10.1186/s13002-015-0034-2
Smith, G.H. (1989) Atheism: the case against God. Prometheus Books, Amherst, New York, ISBN 0-87975-124-X
Smith, W.C. (1963) The meaning and end of religion. Macmillan, New York. Martin, M. (2002) Atheism, morality and meaning. Prometheus Books, Amherst, New York, ISBN 978-0820-434629
*Research Institute of Luminous Organisms, Hachijo, 2749 Nakanogo (Hachijojima), Tokyo 100-1623, Japan and Department of Genetics and Physiology, Oulu University, Oulu, FIN 90140, Finland
e-mail: meyrow@gmail.com