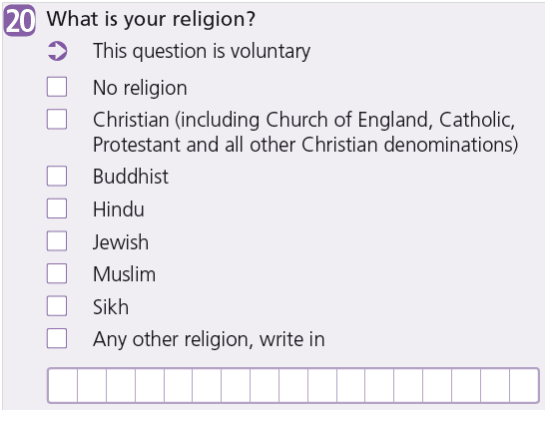 I am certain this has happened to many of our readers too, and often I'm at a loss how to respond to it. It's that little rectangular box marked "Religion" that requests you to fill in your reply. In some cases, the form that contains this question already contains a list of the major (or let's call them "established") religions plus perhaps the option "none" or "other". The respondent then simply needs to tick only the one most suitable term on the list. Perhaps this is not so much of a problem for those who consider themselves adherents, members, or followers of some of the "established" religions that are on the list. However, even they may struggle when they wish to specify which 'branch' or 'stream' of their religion they belong to, but have no way to do so – at least not when these forms are on the web and only allow one to choose just one of the options given in the dropdown. And what about the options of "none" or "other"? The term "none" is ambiguous as I will explain below and "other" can be unsatisfactory if not outright upsetting to someone, who regards his or her unlisted religion as important and on a par with the established religions.
(more…)
On June 28, 1998,
The New York Times
ran an op-ed piece with the title "Memories of Wars Never Fought." Written by Joe Sharkey, the article caught my eye because I had just finished a book on war and public memory. My research had taken me into the study of how groups of people remember major events like wars and how easily the boundary between memory and fantasy can be crossed. Sharkey's article told about a story recently aired on the Cable News Network (CNN) and published in
Time
magazine claiming that the U.S. Army had secretly used nerve gas in 1970 to attack a group of its own soldiers who had defected to the North Vietnamese. As the title of Sharkey's piece implied, the
New York Times
was skeptical of the CNN story.
I was more than skeptical. Indeed, my first thought was that the story was a hoax, something like the article that Alan Sokal published in the cultural studies journal Social Text in 1996. Sokal, a physicist, wrote a parody of the academic field known as literary criticism that was loaded with postmodern jargon in order to demonstrate that some of America's leading intellectuals would publish nonsense if it flattered the editors' ideological preconceptions. I thought some clever individuals had managed to "put one over" on the CNN reporters in the same manner. Perhaps the reporters themselves were implicated in the prank. In a few days, I was sure, someone, maybe even one of the tricksters, would step forward to reveal their mischievousness. (more…)
Load More Posts