Critical Research on Religion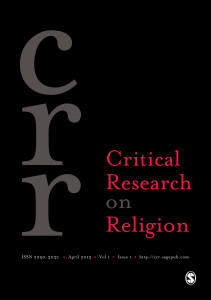 Editor
Warren S. Goldstein, Center for Critical Research on Religion (USA)
Book Review Editor
Bruce Worthington, University of Toronto (Canada)
Editorial Board
Robert M. Bosco, Centre College (USA)
Christopher Craig Brittain, University of Toronto (Canada)
Kenpa Chin, Fu Jen Catholic University (Taiwan)
Néstor Da Costa, Instituto Universitario CLEAH (Uruguay)
Matthew Del Nevo, Alphacrucis College (Australia)
George Gonzalez, Baruch College (USA)
Darlene Juschka, University of Regina (Canada)
Sergey Kozin, Russian Christian Academy of the Humanities (Russia)
Lauren Langman, Loyola University Chicago (USA)
Vincent W. Lloyd, Syracuse University (USA)
Kenneth G. MacKendrick, University of Manitoba (Canada)
Andrew M. McKinnon, University of Aberdeen (UK)
Seyed Javad Miri, Institute of Humanities and Cultural Studies (Iran)
Jorunn Økland, University of Oslo (Norway)
Christina Petterson, Humboldt University (Germany)
Sarah M. Pike, California State University, Chico (USA)
Michael Puett, Harvard University (USA)
Jean-Pierre Reed, Southern Illinois University (USA)
Tatiana Senyushkina, Taurida National University (Ukraine)
Shuangli Zhang, Fudan University (China)
Paul-François Tremlett, Open University (UK)
Advisory Board
Janet Afary, University of California, Santa Barbara (U.S.A.)
Kevin B. Anderson, University of California, Santa Barbara (U.S.A.)
William Arnal, University of Regina (Canada)
Roland Boer, University of Newcastle (Australia)
David Chidester, University of Cape Town (South Africa)
Francis Schüssler Fiorenza, Harvard University (U.S.A.)
Jay Geller, Vanderbilt University (U.S.A.)
Peter E. Gordon, Harvard University (U.S.A.)
Marsha Hewitt, University of Toronto (Canada)
Amy Hollywood, Harvard University (U.S.A.)
Milena Kirova, University of Sofia (Bulgaria)
Terence J. Lovat, University of Newcastle (Australia)
Michael Löwy, Centre National de la Recherche Scientifique (France)
Eduardo Mendieta, Penn State University (U.S.A.)
Mansoor Moaddel, University of Maryland (U.S.A.)
Adi Ophir, Tel Aviv University (Israel)
Carsten Pallesen, University of Copenhagen (Denmark)
Stefanie von Schnurbein, Humboldt University (Germany)
Elisabeth Schüssler Fiorenza, Harvard University (U.S.A.)
Rudolf J. Siebert, Western Michigan University (U.S.A.)
Randall G. Styers, University of North Carolina, Chapel Hill (U.S.A.)
Kenneth Surin, Duke University (U.S.A.)
Rhys H. Williams, Loyola University Chicago (U.S.A.)
Huilin Yang, Renmin University (China)
Lambert Zuidervaart, Institute for Christian Studies (Canada)
Aims and Scope
Critical Research on Religion is a peer-reviewed, international journal focusing on the development of a critical theoretical framework and its application to research on religion. It provides a common venue for those engaging in critical analysis in theology and religious studies, as well as for those who critically study religion in the other social sciences and humanities such as philosophy, sociology, anthropology, psychology, history, and literature.
A critical approach examines religious phenomena according to both their positive and negative impacts. It draws on methods including but not restricted to the critical theory of the Frankfurt School, Marxism, post-structuralism, feminism, psychoanalysis, ideological criticism, post-colonialism, ecocriticism, and queer studies.
The journal seeks to enhance an understanding of how religious institutions and religious thought may simultaneously serve as a source of domination and progressive social change. It attempts to understand the role of religion within social and political conflicts. These conflicts are often based on differences of race, class, ethnicity, region, gender, and sexual orientation – all of which are shaped by social, political, and economic inequity. The journal encourages submissions of theoretically guided articles on current issues as well as those with historical interest using a wide range of methodologies including qualitative, quantitative, and archival. It publishes articles, review essays, book reviews, thematic issues, symposia, and interviews.